Serve With Us!
The most important value of OAG is our mission of "LOVING God passionately, LIVING life abundantly and LEADING people purposefully." Church members are involved in a variety of ministries from things such as serving in the nursery, to greeting and ushering, working on the media team, teaching a Bible class, to joining the worship team. There is a place for you! We would love to help you get connected! Ready for the next step?
OA Worship and Tech
OA Worship and Tech includes Worship Team members, Media Team, and a variety of participants for special services during the Easter and Christmas season. This ministry is always seeking out new volunteers to minister during our services. We encourage all of our participants to attend services and get involved in a variety of ministries! For more information, contact Pastor Lexie.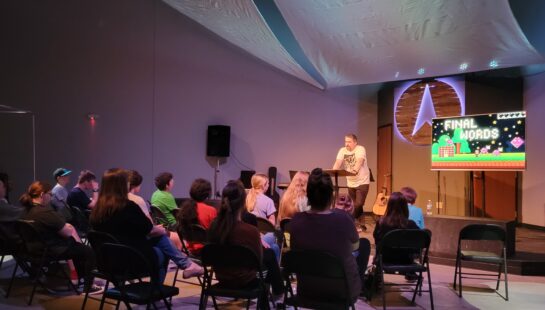 Student Ministry
Pastor Josh and our team at OA Students are always looking for Godly adults who want to invest in the next generation! If you think that this might be the place for you, please contact Pastor Josh.
Kids Ministry
Pastor Ashlyn is always looking for Godly adults, teens, and pre-teens who are willing to serve and love on our OA Kids! If you are interested in volunteering in any area of our Kids Ministry, please contact Pastor Ashlyn.
First Impressions
First Impressions is all about creating an atmosphere of warmth, friendliness and a loving welcome so that people want to come back to learn more about Jesus Christ. If you would like to be a part of this ministry, please contact team leader Chad Stavely.
World Missions
O'Fallon Assembly is thrilled to be part of the spread of God's love around the world! We are active in supporting over 60 missionaries and ministries with our money and with our prayers. We have sent teams of adults and youth overseas, as well as participating in home missions! We encourage all of our OAG members to respond to God's call to spread the gospel, whether it means they give through a faith promise, serve on a missions trip or minister in our own community. For more information, visit our missions page.
Community Outreach Events
Several times per year, we host or participate in events that are designed to meet our community where they are, and show them the love of Jesus in a tangible way. These events include the Easter Egg Hunt, Vacation Bible School, 3-2-1 Weekend, and Convoy of Hope, among others. Because of the scope of these events, we need all hands on deck, so everyone has a place to serve.